Daily Updates
Published on October 23rd, 2017 | by gareth
0
10 Best Games for Halloween
With the spookiest time of the year just around the corner, let's look at some of the most effective games in the horror genre to get you in the mood for the festivities. Play with the lights off at your own risk.
Until Dawn
This fantastic AAA effort from developers Supermassive Games breathed new life into both the horror genre and the make-your-own adventure style of the game usually to be released by Telltale Games. Based on an eerie log cabin in the mountains of Canada, the game plays
on a host of horror tropes to later cleverly subvert them in what turned out to be a horror movie within a horror movie, all whilst being terrifying.
Resident Evil 7
Fans initially baulked at the news that the seventh game in a traditionally inconsistent series was to be an FPS centered around hillbilly horror. People were pleasantly surprised then, to find a game that hewed a lot closed to the mansion isolation, puzzle solving and survival horror roots the series is famous for.
Dead Space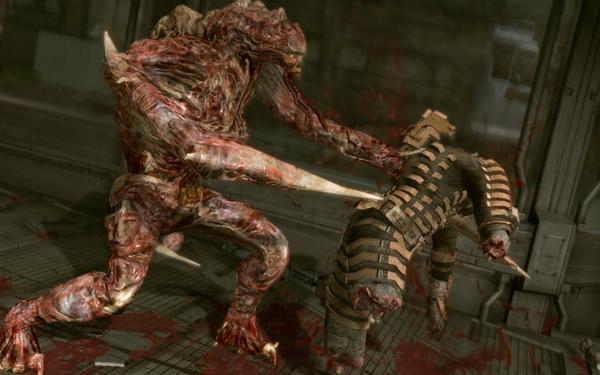 This trilogy stole a from a wide variety of cinematic and video games sources like Alien, Event Horizon, Doom, Resident Evil 4 and others, but when it did so brilliantly we think they can be forgiven. The thirst person sci-fi shooter was cinematic, atmospheric and, crucially, very frightening. One of the best original IPs from the last generation.
Silent Hill 2
The brilliantly bleak second outing for the series remains its pinnacle. Playing as James Sunderland, you journey to the fateful town of Silent Hill answering a letter from your long-dead wife. Things go very bad very quickly, however, in one of the finest pure survival horror outings of all time.
Alien: Isolation
There's been a lot of games based on the Alien series, but none of them has captured the paranoia and desolation of the first film till now. You have to navigate an abandoned spacecraft while pursued by a lone xenomorph, who nonetheless can strike at any time, leading to some incredibly tense games of cat-and-mouse.
Condemned
The Condemned series is a much underrated entry in the survival horror canon. It was brutal, both in the action and psychological atmosphere, in a way that many games have struggled to match since.
Siren: Blood Curse
This is one of the few horror games to purely channel the horror of J-horror flicks like Ju-On and Ringu. It's a terrifying game set in a village where you're persistently pursued by zombified cultists while having very little to defend yourself with.
Resident Evil 4
Simply put, it's one of the best games of all time. Trading off the muted survival horror traditional to the series for campy action and big, brash set-pieces around cherry casino bonus proved to be a winning gamble, making for a game as thrilling as it was fun to play.
The Last of Us
This seminal adventure game raised the bar for cinema-like gaming, with top-notch writing, performances and plotting wrapped around a heart-breaking emotional core. Playing as main character Joel trying to guide a teenage girl through a post-apocalyptic wasteland, the quality of the storytelling was somehow matched by the water-tight gameplay.
P.T.
Conceived as a tech demo for the forthcoming Silent Hills game to be made in partnership with visionary creators Hideo Kojima and Guillermo Del Toro, this gave us a taste of what could have been if not for the mismanagement of developer Konami. Still, it offers up two of what is probably a terrifying hours of video gaming of all time, simply by looping the player through different iterations of the same corridor. Gone but never to be forgotten.